Potclays- and Potterycrafts-Clays
Main Page > Clays > Potclays- and Potterycrafts-Clays
0 - 0,5mm with 40% chamotte. Total shrinkage approx. 9,5%
Package size 12,5kg. NEW!
Harmaan...
EQUIVALENT to the old familiar 172. Kuvissa tummempi sylinteri on poltettu pelkistävässä poltossa, vaaleampi sähköuunissa. Excellent...
0 - 0,5mm with 42% chamotte. Coarse stoneware clay.
Sculptures, hand building techniques and raku.
Excellent thermal...
0 - 0,8mm with approx. 40% chamotte. Very coarse stoneware clay. Very good thermal durability and low shrinkage.
Savi sisältää kalkkikiveä, joka...
0 - 2mm with approx. 40% chamotte. Hand building clay for big sculptures.
0 - 0,4mm with 10% chamotte. Pilkuttuva kivitavarasavi. Luonnon kivitavaramassojen sekoitus.
Plastic, excellent throwing clay.
Sähköuunissa...
Firing range: 1060 - 1280°C, Biscuit firing 950 - 1000°C,
Firing colour: Grey.
Package size: 10kg...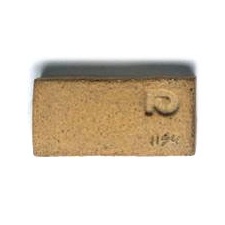 (=1154S)
0 - 0,5mm with approx. 40% chamotte. Raku- or stoneware clay. Softer version of 1154-clay due to finer chamotte.
Low...