GS1112 puoliposliini
Main Page > Clays > GS-clays > Stoneware clays
0-1 mm with 25% chamotte
Watch technical data here
Firing range 1200-1280ºC.Grogged half porcelain clay suitable also for hand building works. Color after firing is beautiful white. Grog is distinctive from the mass making the surface lively.
See also
0 - 0.2 mm with 25% chamotte
Watch technical data here Firing range 1000 - 1280ºC. Kaunis laavapilkullinen savi hienojakoisella samotilla. Sopii...
Polttolämpötila 1200-1260°C. Pakkauskoko 500ml.
***NEW***
Firing range 1000-1250°C Packet size 10kg. New "Black Stone" clay by Witgert. Clay has both wihte...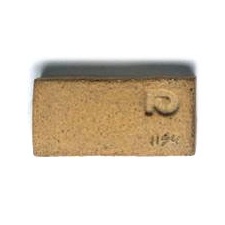 (=1154S)
0 – 0.5 mm samottia n.40 %

Raku- tai kivitavarasavi. Saven 1154...
Soveltuu erinomaisesti käytettäväksi rakupolttoon ja veistoksiin.
Kutistuu vain vähän eikä vääntyile herkästi.
Massa...
0-1mm with 40% chamotte Firing range 1200-1300ºC.
Excellent clay for sculpting. The thickness of the walls...
1000-1300°C
3.0 mm samottia 50%.

Karkea savi isoihin veistoksiin tai rakupolttoon.
Erinomainen...
0 – 0.8 mm samottia n.40 %

Hyvin karkea kivitavarasavi. Erittäin hyvä lämpötilan kesto ja pieni kutistuma. Savi...
Polttolämpötila n. 1200 - 1260ºC.
Pakkauskoko 500ml...